Creating the best in children's theatre for over 18 years!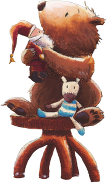 A magical fairytale for little sorcerer's 3+
and their grown-ups.
Charlie Hubble is a little boy with a very big
dream, he wants to be a world-class magician.
So, he saves up his pocket money to buy The
Big Book of Magic for Trainee Magicians.
Then he sets off to Mr Zacoor's Toy Shop to
buy his spellbook. But Mr Zacoor is no ordinary
shopkeeper, he's a real life magician! And he
has a very special job for Charlie...
BOOK TICKETS
This delightful new show comes to life with an
irresitable blend of music, puppetry and storytelling.
There's also an enchanting toy shop setting filled with
all sorts of magical surprises!
Little people aged 3-7 will love this funny, heart-
warming tale but big people will have lots of fun,
too.
"Magical storytelling"
The Primary Times
More shows
BOOK TICKETS