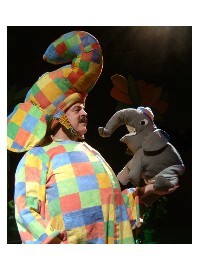 Touring from Jan to Apr, 2006

E

lmer was different!  He was yellow, and orange, and pink, and blue. Every colour of the rainbow.  But, Elmer had always dreamed of being just like the other elephants.  He wanted to be Elephant-coloured!

This delightful new play for the very young, adapted from David McKee's popular series of books for children, promises to be an adventure not to be missed! Brought to life with high-energy storytelling, puppetry and live music, this is a colourful tale of true friendship especially for 4 - 7 year olds.